JULY

6th - Condobolin RSL (with Runaway Dixie)

7th - Dubbo RSL (with Runaway Dixie)
Sunday 22nd - 1:30pm Royal South Australian Yacht Squadron Club, Adelaide.
Peter Coad & The Coad Sisters/Jim Hermel/Runaway Dixie Show
Dinghy Shed, 161 Oliver Rogers Rd, Outer Harbor, SA 5018
Details via the club.
CONTACT/BOOKING

AUGUST

Thurs 2nd 1.30pm—Yass Senior Cits Hall, Yass.
(Peter Coad & The Coad Sisters only)
Email Johnny Goode. Organiser


4th - Dubbo RSL (with Runaway Dixie)
Wednesday 8th - Victoria Bowls Club, Ballarat
7pm. Bookings Frank: 0428 391 917 (with Runaway Dixie)


Thurs 9th - Warrnambool Bowls Club - Timor Street. 1pm. Tix at the door $20.
Bookings/Contact 03 55614586 (Laura) (with Runaway Dixie)


FRIDAY 10th AUGUST 2018
CASTERTON GOLF CLUB 7.30pm (with Runaway Dixie)
$25 at the door (including light supper)
Reservations essential.
Bookings/Info: Contact Ken Bibby 0418 543 594

14th - Edenhope Golf Club. 2pm. Tix at the door $20. Bookings/Contact 0427 2286 59. (with Runaway Dixie)

Wed August 15th. Peter Coad and the Coad Sisters, (with Runaway Dixie) in the Rendelsham Hall 7.30pm $25 (includes supper). Contact Lyn Brooks Organiser on 0427354240.

NOVEMBER
LOCKINGTON TOWN HALL, LOCKINGTON.
Peter Coad & The Coad Sisters/& Runaway Dixie)
(Concert/Dance night) (Table seating, plus dancefloor available)
Friday 9th November
John Vanderbosch
03 5486 2480


BURRA COUNTRY MUSIC FESTIVAL 2018
Friday, 16 November, 2018 at 5:30pm until Sunday, 18 November, 2018 at 3pm
BURRA COUNTRY MUSIC FESTIVAL info




LITTLEHAMPTON PEACE MEMORIAL HALL
Peter Coad & The Coad Sisters (plus guests Runaway Dixie)
(TWO SHOWS)
Friday the 23rd November at 7:30 pm &
Saturday the 24th November 1:30 pm.
At Littlehampton Peace Memorial Hall, Littlehampton, SA.
Cost Pre Paid per show: $25. At the door per show: $30
Includes 1 Raffle Ticket and Supper.
Additional Raffle Tickets available the door.
Contact Ruth Richmond 0400 406 636
8536 4819 Aft 7:30 pm or Email Possum59.rr@gmail.com
DECEMBER

NYE - Ilford Town Hall - Ilford. (with Runaway Dixie)
Contact Robyn: 02 6379 4053. Tix at the door. $20.


More 2018 shows to be added soon.
---

January 2019


Tamworth Country Music Festival

(Shows we are presenting or involved in)

FRIDAY 18th January 2019
9am - 12 midday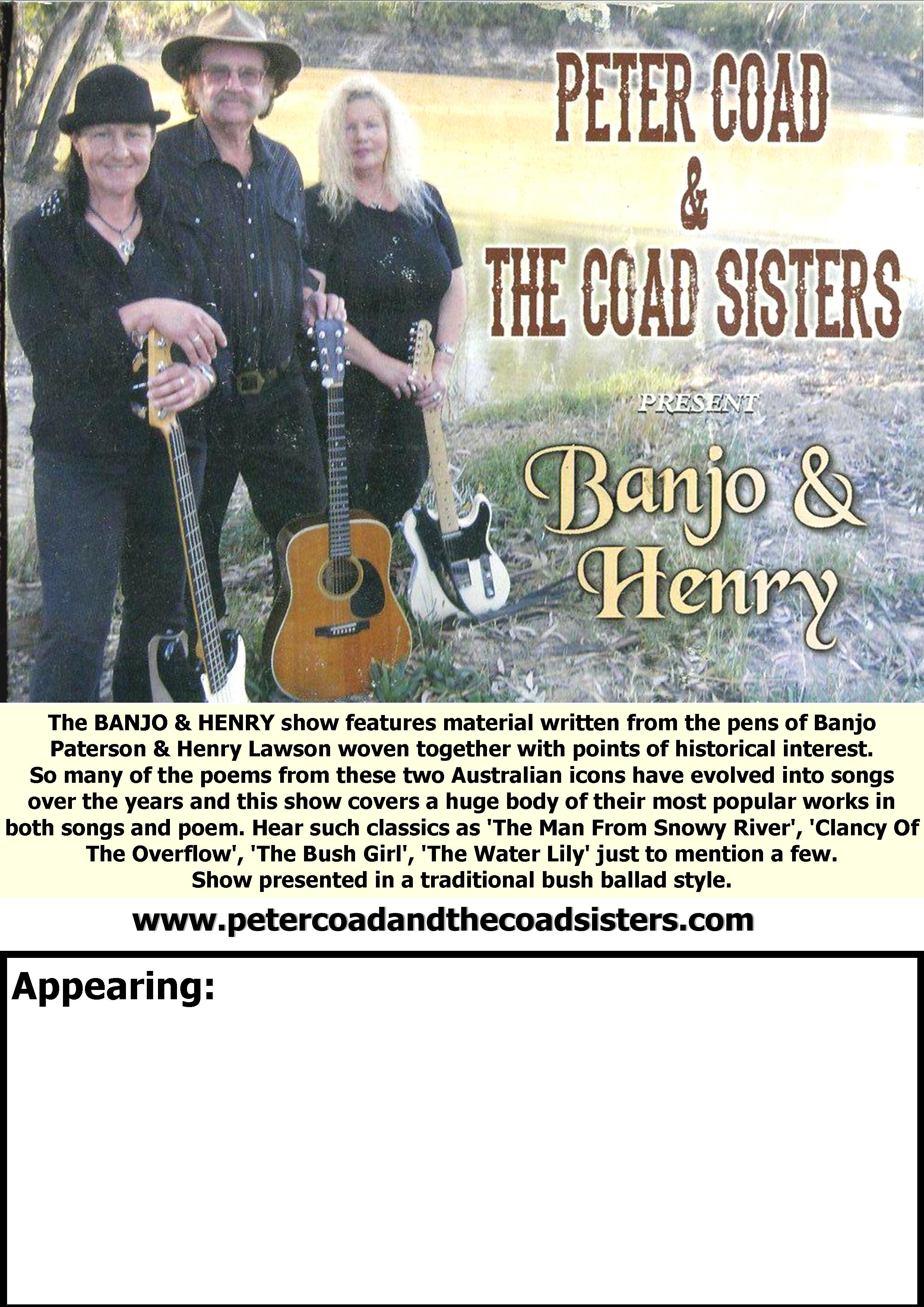 BANJO & HENRY
The BANJO & HENRY show features material written from the pens of Banjo Paterson & Henry Lawson.
So many of the poems from these two Australian icons have evolved into songs over the years and this show covers a huge body of their most popular works in both songs and poem.
Presented by Peter Coad & The Coad Sisters the show has become a firm favourite of the Tamworth Festival week at the 'Balladeers Homestead'.
Hear such classics as 'The Man From Snowy River', 'Clancy Of The Overflow', 'Do You Think I Do Not Know', 'The Bush Girl', 'The Water Lily' just to mention a few.
Many of the songs and poems will be from Peter Coad & The Coad Sisters's album 'Banjo & Henry'.
Guest: Ray Essery.
Ray Essery has his own cds and a book available, which he will be performing material from.
Tix at the door $15
Venue: 'THE BALLADEERS HOMESTEAD'
(328 Goonoo Goonoo Road, Tamworth NSW 2340)
1.30pm — 4.30pm
HILLBILLY & COUNTRY GOLD
"Hillbilly & Country Gold" is a top show of Hillbilly & Country Classics from the 40's, 50's & 60's.
Featuring a wide array of songs from acclaimed Australian Hillbilly and Country artists, the show also includes songs from many international artists who inspired our early Australian pioneers to take up their musical careers that led to the Australian Country and Bush Ballad music we know today.
The show is presented by Peter Coad, The Coad Sisters and Jim Hermel and the material performed embraces Slim Dusty, Webb Brothers, The Singing Kettles, Kevin Shegog, Shirley Thoms, Shorty Ranger, Tex Morton, Smoky Dawson, Buddy Williams and many more, plus a sprinkling of songs from Jimmie Rodgers, Hank Williams, Hank Snow and others.
Sing along with the favourites of yesterday.
Hear again the songs that played on that old gramaphone and those hillbilly radio shows.
Three hour show (includes interval).
ARTISTS/BAND: Peter Coad, Coad Sisters & Jim Hermel.
Tickets at the door just $15.
Venue: 'THE BALLADEERS HOMESTEAD'
(328 Goonoo Goonoo Road, Tamworth NSW 2340)
SATURDAY 19th JANUARY 2019
9am
The YODEL & A SONG show is a great mix of yodelling and general songs.
Presented by Peter Coad OAM the show proved a real winner in 2018 and the formula in 2019 has remained true to its original concept.
Artists appearing in 2019 will present another unique show that will again enchant the audience. If you haven't been to the 2018 show come along and join us in 2019. We would love to see you there!
Band: Jim Hermel, Lynette and Virginia Coad & Mike Tyne.
Artists: Tom Maxwell, Taylor Pfeiffer, The Coad Sisters, Tom & Phil Manning, John Smith, & Laurel Calvert.
Admission $15 at the door.
Venue: 'THE BALLADEERS HOMESTEAD'
(328 Goonoo Goonoo Road, Tamworth NSW 2340)
WEDNESDAY 23rd January 2019
JANUARY 2019
9am
PETER COAD & THE COAD SISTERS SHOW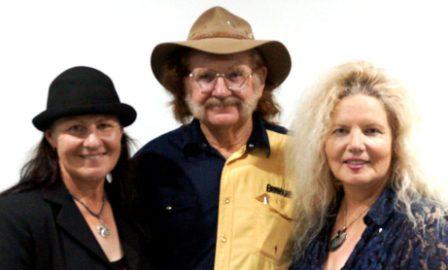 PETER COAD & THE COAD SISTERS are one of the last fulltime touring family show bands in Australia today.
In a career that has seen them perform at every type of venue whether it be the Sydney Opera House, Birdsville Races, Sydney, Melbourne & Adelaide Royal Ag. Shows, major Country Music Festivals throughout Australia to the most isolated areas of this nation, Peter Coad & The Coad Sisters present their 'unique' traditional music to an ever growing audience.
With multi-instrumental, multi harmony skills, their own original material, plus a sprinkling of Australiana ballad favourites, along with some yodelling classics and a good dash of humour the Peter Coad & The Coad Sisters Show contains a dynamic musical variety of something for everyone.
Artists: Peter Coad OAM, Lynette Coad & Virginia Coad.
Guests in 2019: Jim Hermel & Runaway Dixie
(2016, 2017, & 2018 Golden Guitar Finalists Runaway Dixie perform a 40 minute set. www.runawaydixie.com )
Admission $15 at the door.
Venue: 'THE BALLADEERS HOMESTEAD'
(328 Goonoo Goonoo Road, Tamworth NSW 2340)
FRIDAY 25th January 2019
9am
THE YODELLING SPECTACULAR
The YODELLING SPECTACULAR is hosted by Peter Coad OAM.
Band: Lindsay Hammond, Lynette Coad, Trevor Letton & Mike Tyne.
Artists: Laura Downing, Taylor Pfeiffer, Virginia Coad, Dianne & Sandra Lindsay, and more TBC by mid 2018.
Admission $15 at the door.
Venue: 'THE BALLADEERS HOMESTEAD'
(328 Goonoo Goonoo Road, Tamworth NSW 2340)