COUNTRY & ROCK 'n' ROLL MUSIC ROAD SHOW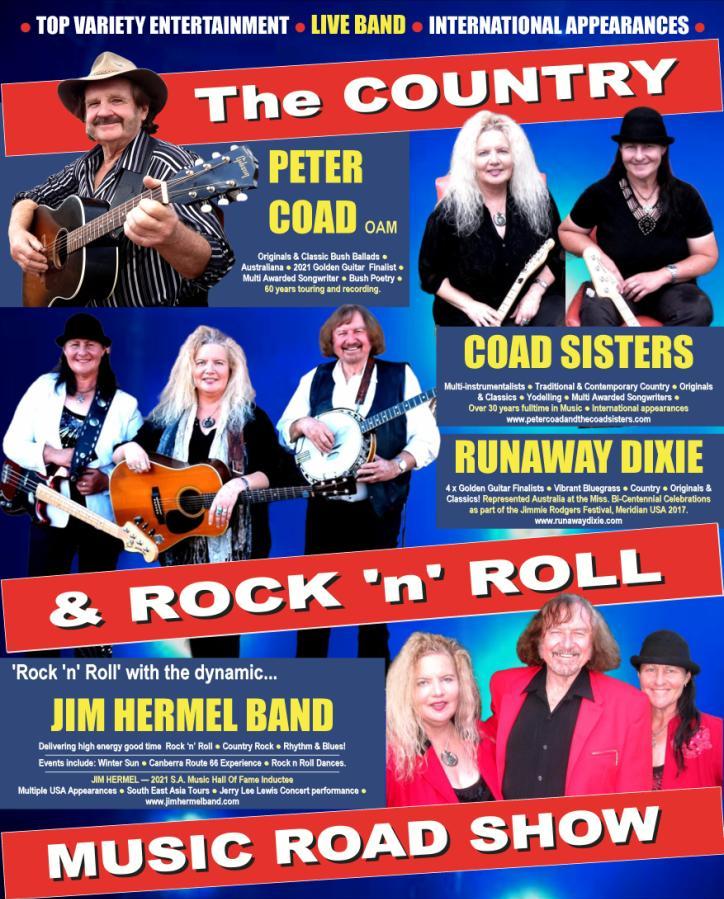 The COUNTRY & ROCK 'n' ROLL MUSIC ROAD SHOW
comprises of 3 parts showcasing 3 bands: -
• PETER COAD & THE COAD SISTERS
• RUNAWAY DIXIE
• & The JIM HERMEL BAND
The 1st part of the show kicks off with PETER COAD (OAM) (Golden Guitar Awards Of Australia 2021 nominee) on rhythm guitar and vocals performing a strong selection of Australian Bush Ballads, intertwined with a great selection of classic Aussie ballads, yodelling and classic country from the COAD SISTERS on lead and bass guitar, along with Jim Hermel on drums.
With many albums, and songwriter accolades behind them, PETER COAD & THE COAD SISTERS not only include songs from their many albums, but also Australiana audience participation singalongs such as 'Waltzing Matilda' etc.
PETER COAD & THE COAD SISTERS have been touring together for over 30 years as a trio.
Performances include major Australian Country Music events, and venues from the Birdsville Races to the Sydney Opera House.
www.petercoadandthecoadsisters.com
The 2nd part of the show features 4 times Golden Guitar Awards Of Australia nominated trio RUNAWAY DIXIE (Jim Hermel (bluegrass banjo), VIRGINIA HERMEL (acoustic rhythm/lead guitar) & LYNETTE COAD (bass guitar).
With dynamic Bluegrass originals and classics, delivered with three-part harmonies RUNAWAY DIXIE take the show to a whole new level of musical diversity.
The trio then switch with Jim on electric lead, Lynette on drums, and Virginia on bass, to deliver a variety of vibrant classic and original country from their 6 albums.
The RUNAWAY DIXIE trio represented Australia at the Mississippi Bi-centennial Celebrations, Meridian USA, in conjunction with the Jimmie Rogers Festival 2017.
The 3rd part of the show features the JIM HERMEL BAND.
The JIM HERMEL BAND features JIM HERMEL on lead guitar, LYNETTE COAD on drums, and VIRGINIA HERMEL on bass guitar.
The band delivers goodtime rock 'n' roll music that everyone knows and loves to sing and dance along to.
The JIM HERMEL BAND section features a change with VIRGINIA HERMEL taking lead guitar/vocal role and her sister LYNETTE COAD to bass, and JIM HERMEL on drums, with Virginia presenting a range of popular upbeat music followed another change back to Jim on lead guitar and lead vocals again to complete the show.
JIM HERMEL was inducted into the South Australian Music Hall Of Fame in 2021 in respect of his work in the Australian Music industry over 50 years, touring Australia and internationally.

www.jimhermelband.com
PETER COAD (OAM) not only performs in the 1st part of the show he also comperes the show, throwing some bush verse in between each band change for a nonstop (unless otherwise advised) show.
The COUNTRY & ROCK 'n' ROLL MUSIC ROAD SHOW
has something for everyone!
All live music. CDs available.